iSafe Keylogger Pro 2018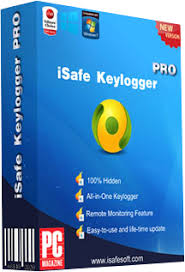 Enables you to monitor all activities, chats, websites, keys, clipboard and copy and paste. From
through the activation of the program you everything including blocking unwanted sites and monitoring
programs. It allows you to record keyboard uses, including language and specific characters,
talk , chat conversations, passwords, email, clipboard, desktop, and activity
Internet. It has a monitoring tool that allows you to record and monitor everything that happens on your computer and hand it over
to you to your email address - including screenshots. Chat automatically every hour, monitor
each site and control it with ease and ease. Any other computer monitor tool gives you security for their knowledge
You'll be able to collect every screenshot and every keystroke with just a click of a button.
You can send all these reports on your personal email or on any of the download servers such as Google Drive too.
explain the installation of the program: Just click Click to start the program: Follow the following 1 - After installation we press Alt + ctrl + shift + x to open the program And shows the main interface of the program and the secret number is 123 2 - go to the preparation of the program from the small arrow and work out of the program 3 - we open the Task Manager and finish the program so that we can move the crack 4 - after the transfer of the crack and restart the program from the file WPK.exe 5 - The program is now activated and works with all its advantages
RAR Password : menzil
Last edited: