Joined

Oct 15, 2017
Messages

111
Likes

147
Points

43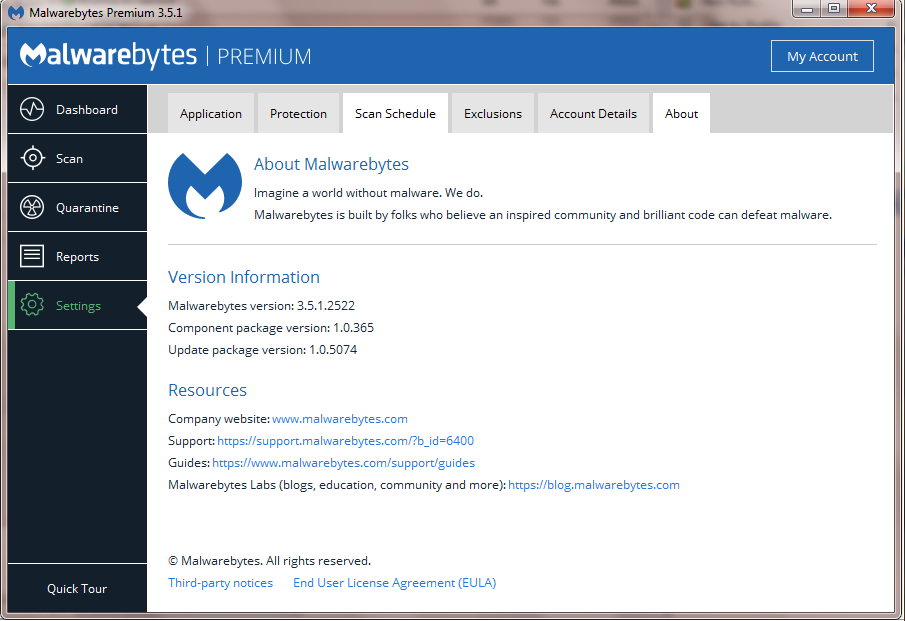 Malwarebytes (in previous versions - Malwarebytes Anti-Malware) - a full-fledged antivirus for Windows operating systems. Against the background of other antivirus products, it stands out because it has not yet been spoiled by marketing "chips" and is developing in terms of the quality of the product itself, if that's the case at all, since antiviruses have ceased their development for a long time. You should understand that no product will save your computer from infection if you thoughtlessly click on all buttons on websites and in programs. But in addition to sound logic and thinking, this antivirus will do just fine.
Real-time protection
Detects malware automatically, before it can infect.
Anti-exploit
Shields vulnerable systems and software from exploit attacks.
Anti-ransomware
Stops ransomware attacks before your data is held hostage.
Malicious website protection
Prevents access to and from known malicious webpages.
Anti-malware/Anti-spyware
Detects and removes malware and advanced threats.
Anti-rootkit
Removes rootkits and repairs the files they damage.
What's New
Performance/protective capability
Added support for Hypervisor Code Integrity (HVCI) and Device Guard to meet Microsoft compliance requirements
Improved the remediation process so fewer reboots are required
Improved the accuracy of the Web Protection module
Improved driver management for increased stability
Continued improvements to overall protection, detection and remediation
Usability
Updated the dashboard design to better showcase Malwarebytes real-time protection features
Updated Notification Center behavior to make it easier to dismiss
Numerous other user interface and copy enhancements
Stability/issues fixed
Fixed issue where anti-ransomware module could cause high CPU and memory use
Fixed an issue where Malwarebytes would open to the scan tab instead of the dashboard
Fixed reported crashes related to Web Protection
Fixed several translation issues
Addressed other miscellaneous defects
Download LinkS:-
Or
Or