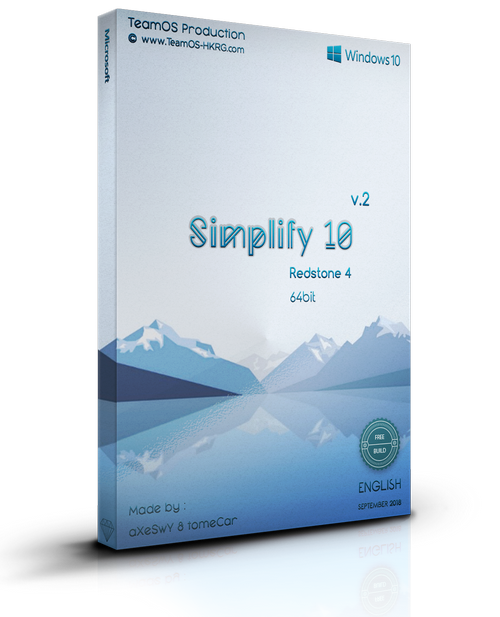 This System is mainly built for Old PC usage
.. you can use it for web surfing ..movies watching and listen a music.. i don't advise it for commercial work like Photoshop or video editing.. coz some service is put to manual or disabled for better performance.. but main once are just fine.. have test this build for 15days... and works just fine.. Enjoy!!
This Build is Not Updateable!!
Build: Windows 10 PRO Redstone 4 v.1803.17134.319 En-Us x64 ESD
Integrated Windows Features
Microsoft .NET Framework 3.5
Microsoft Win32 Calculator
Microsoft DirectX 9.0c
Windows Updates
Icons
Theme
20 Wallpapers
Permanent Activation
Windows Custom Features
Microsoft Win32Calc Metro Skin
Windows Photo Viewer Metro Skin
Custom Default User Account Pictures
Windows Media Player Metro Skin
Removed Windows Components
All Apps (and Store)
Microsoft Connect App
Microsoft OneDrive Desktop Client
Microsoft Skype ORTC
Windows Content Delivery Manager
Windows Desktop File Explorer App
Windows Embedded Features
Windows Home Group
Windows Mixed Reality
Windows Quick Assist App
Windows Take Test App
Microsoft Edge Browser App
Microsoft Hyper-V
Windows Cortana & StartMenu Search App
Windows Store Client
Microsoft Telemetry
Windows Defender
Windows People Experience Host
Windows SmartScreen
Deep Clean
Accessibility tools
Auto-Rotation Manager
On-Screen Keyboard (Accessibility tools)
OneDrive
Paint
Retail Demo Content
Send To M_ail and Desktop
Skype ORTC
Speech TTS
Update package removed: KBMicrosoft-Windows-LanguageFeatures-TextToSpeech-en-us-enduser-Package
Update package removed: KBMicrosoft-Windows-LanguageFeatures-TextToSpeech-en-us-enduser-Package
Update package removed: KBKB777778 | Cortana, text-to-speech, and Narrator for English (US)
Update package removed: KBMicrosoft-Windows-LanguageFeatures-TextToSpeech-en-us-onecoreuap-Package
Update package removed: KBKB777778 | Cortana, text-to-speech, and Narrator for English (US)
Update package removed: KBMicrosoft-Windows-LanguageFeatures-TextToSpeech-en-us-onecoreuap-Package
Update package removed: KBMicrosoft-Windows-LanguageFeatures-Speech-en-us-enduser-Package
Update package removed: KBMicrosoft-Windows-LanguageFeatures-Speech-en-us-onecoreuap-Package
Update package removed: KBMicrosoft-Windows-LanguageFeatures-Speech-en-us-enduser-Package
Update package removed: KBMicrosoft-Windows-LanguageFeatures-Speech-en-us-avcore-Package
Update package removed: KBKB777778 | Cortana and speech recognition for English (US)
Update package removed: KBKB777778 | Cortana and speech recognition for English (US)
Update package removed: KBMicrosoft-Windows-LanguageFeatures-Speech-en-us-onecoreuap-Package
Steps Recorder
Text prediction
Update package removed: KBMicrosoft-Windows-TextPrediction-Dictionaries-en-Package
Update package removed: KBKB777778 | Handwriting and pen for English (US)
Update package removed: KBKB777778 | Handwriting and pen for English (US)
On-Screen Keyboard (Tablet PC)
Tips (Get Started)
Video Compression Manager (VCM) codecs
Windows Help content
Help file support (CHM)
Windows Mixed Reality
Windows Recovery
Windows Subsystem for Linux
Wordpad
Xbox App
XboxGameCallableUI
APPX Prov
UR ld1
DCS
DS
UR ld0
Total removed
:
916MB
Tweaks
Disable Cortana App
Hide Taskbar TaskView Icon
Disable Automatic Driver Updates through Windows Update
Disable Automatic Downloading and Installing 3rd Party Apps
Force .NET Programs to Use Newest .NET Framework
Enable and Set Windows Photo Viewer As Default Viewer
Enable Fraunhofer MP3 Professional Codec
Enable DISM Image Cleanup with Full ResetBase
Language: English
Architecture: 64bit
Compression: ESD
File Size: 2.2GB